Description
Campingaz 3 Series Classic LS Gas Barbecue – Black
The Campingaz 3 Series Classic LS Gas BBQ at Masseys is perfect for the summer time! It features 3 stainless steel burners for consistent performance every time you use it. It has enamelled stamped split 2/3 grid and 1/3 grill as well as a side burner. The 3 powerful burners provides powerful performance and 250℃ heat at the cooking surface and the convenient thermometer enables to control the heat.
Featuring piezo ignition for match-free lighting and caster wheels for an easy and safe move, the Campingaz 3 Series is great for an authentic barbecue experience.
Difference in models?
LS Models – Steel cooking grates
LS PLUS Models – Cast Iron cooking grates with Culinary Modular System
Highlights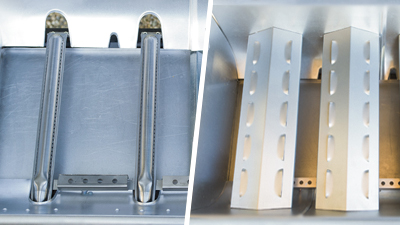 Stainless Steel Burner System
Get ready for the new strong and durable stainless steel tube burners for long lasting and enjoyable BBQ sessions!
Enjoy great cooking performance with this smart burner system designed especially to perfectly grill all types of foods.
From direct grilling to prolonged baking using indirect heat, the burner allows versatile usage:
• Even heat distribution across the cooking surface
• Powerful heat for direct grilling and searing
• Adjustable heat even to low temperatures ideal for indirect cooking
• Durable materials ensure a prolonged lifetime of burners
How does the Stainless-Steel-Burner System work?
• Specially designed burners create V-shaped flames that are directed towards the cooking grid and spread the heat evenly across the cooking surface
• The tube burners can be adjusted to create smaller flames that are perfect for keeping low heat for extensive indirect grilling
• The newly designed burner tent, with protected ventilation slots, supports the even distribution of the heat and prevents flare ups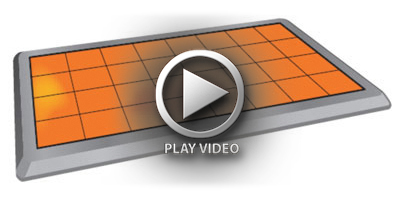 Even-Temp® – Even Heat Distribution
Temperatures of and above 250°C are recommended for perfect direct grilling and searing.
It is important to have such temperatures across most of the cooking surface – nothing is more annoying than having part of the food already well done while the rest is still uncooked.
The grills reach temperatures above 250°C on the cooking surface so the grill can be used more efficiently. The control knobs allow the barbecue chef to decide where he wants to have really hot areas and where he wants to have less heat.
Cooking surface dimensions: 2800 cm²
Cooking Dimensions (cm): 61 x 45
Cooking surface material: Enameled cast iron
Cooking surface configuration: Grid / Griddle
Burner: Stainless Steel
Number of burners: 3
Rotisserie Option: Yes
Power: 9600 W
Gas consumption: 698 + 167 g/h
Warming rack: Yes, articulated
Ignition: Piezo
Thermometer: Yes
Side table(s): Yes
Folding side table(s): 1
Side burner: Yes
Lid material: Painted steel with aluminum die cast sides
Trolley material: Steel
Trolley front: 2 doors
Wheels: 4 small
Weight: 50 kg
Dimensions (L x D x H): 120 x 64 x 116