Description
The Honda HRD536 TX Lawn Mower is a 21" (53cm) four-wheel rotary mower suited to the larger lawn. It has a 1 year commercial warranty.
The aluminium cutter deck makes for a rugged construction and the three-speed self-propelled drive system gives you the flexibility to match the forward speed to the cutting conditions ensuring that you always achieve a perfect cut.
Honda have fitted their GCV160 engine to the machine to give you easy starting and great performance every time.
With their unique Roto-stop® feature, when you release the handle the engine continues to run but the blade stops allowing you to leave the engine running whilst emptying the grass bag. An added benefit of Roto-stop® is the ability for you to be able to drive the mower around the garden without the blade turning if necessary.
This mower comes with a 7 year limited domestic use warranty and a 1 year commercial use warranty which is supported by a nationwide dealer network. This is subject to it being serviced after each year.
Roto stop allows the user to have the engine tick over without the blades spinning. This allows for the mower to be pushed over gravel or anywhere you don't want to be mowed safely and easily. It also allows for the grass bag to be emptied without worry of the blades spinning.
ALUMINIUM DECK
The aluminium deck makes the whole lawnmower much sturdier, lighter and less prone to rust. You'll also see that the handle is secured in two places, greatly increasing the stability and durable feel of the lawnmower.
Product Specification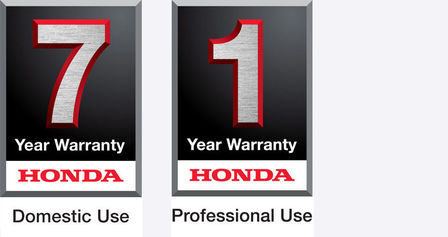 The Honda HRD 536 TX EH comes with a 7 year domestic warranty (if serviced annually by a Honda dealership). Honda domestic lawn mowers are supported with one of the longest and most comprehensive warranties in the industry.
Please note this warranty covers manufacuring defects not wear and tear.
Why do we recommend Aspen fuel?
Aspen fuel is chemically inert meaning that it will not break down, unlike normal petrol that starts to break down as soon as you put it in your tank. Your lawn mower will start easilywith Aspen even after the long winter break. Did you know that 1 hour of mowing your lawn with normal petrol emits roughly the same amount of toxic emissions as a modern car running for 300 hours! Aspen 4 reduces harmful hydrocarbons by 99 percent compared to pump unleaded. See Aspen fuels for more information.