Description
The Honda HRG 466 SKEP has an 18 inch width of cut, it is self-propelled, it features the Honda 145 cc engine and you can easily switch from collecting the grass to mulching the grass thanks to the Honda Versamow™ selective mulching system.
Engine
The new Honda engine features the Honda auto choke system for easier starting and a new design allowing it to be more tolerant to lower quality fuels. The GCVx engine is extremely straightforward to start in any conditions due to the high-quality auto-choke system. It is a quiet, very efficient and reliable engine, allowing you to work in an efficient and timely manner without hassle.
Deck
The deck on the Honda HRG 466 SKEP is a high quality, durable steel deck that will last you for years to come. The height of cut adjustment is between 20 – 74 mm. The large 50 litre grass box is both large enough to cope and small enough that it is not too heavy to empty. This mower also features folding handles which allows storage in the smallest of places. See all of our Honda lawn mowers.
This is the SK model which means it is self-propelled thanks to a single speed transmission.
Versamow™ selective mulching
With a single lever, Honda's Versamow™ system will either collect the grass cuttings into the bag or finely shred and blow them down into the lawn to create a natural fertiliser.
Warranty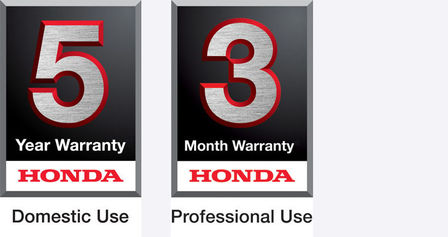 The Honda Izy HRG 416 PK comes with a 5 year warranty (if serviced annually by a Honda dealership). Honda domestic lawn mowers are supported with one of the longest and most comprehensive warranties in the industry.
Please note this warranty covers manufacuring defects not wear and tear.
Honda HRG 466 SKEP Specification
Why do Masseys recommend Aspen fuel for lawn mowers?The VIP treatment – Masseys will assemble your lawn mower, add the correct amount of oil and fill the petrol tank with Aspen fuel. Aspen fuel is a premium fuel with very low emissions and a shelf life of up to 5 years. It helps to look after your engine saving you money on future service and repair costs.