Description
The Honda HRH 536 QX lawn mower is a lawn mower for the professional. It has been engineered to meet the needs of the professional user, featuring a high density alloy deck, heavy-gauge handlebar tubing with additional support bracket and cable protection. The shaft drive and heavy-duty gear box makes maintenance both easier and less frequent. With the rear roller and a powerful and durable 163cc OHV engine, the mower drives along at a consistent speed for a perfect striped finish.
Models with a rear roller give your lawn that classic striped effect. A rear roller also offers greater machine balance and control when cutting around the edge of your lawn.
The Honda HRH 536 QX lawn mower offers the highest level of features & ultimate specification for professional users. In addition to standard features, a Honda Easy Start engine for effortless starting, 21″ cut, self-propelled, the Honda HRH 536 QX professional model also has heavy duty steel front wheels, high density alloy deck, heavy-guage handlebar tubing with additional support bracket, shaft drive, handle bar cable protector, front deck guard and heavy duty gearbox. See all of our Honda lawn mowers.
The HRH 536 QX is aimed at the professional market or the gardener looking for a machine to stand up to heavy work load thanks to its heavy duty alloy deck.
The Honda HRH 536 QX professional lawn mower is also fitted with a roto-stop clutch which allows the operator to empty the box whilst leaving the engine running and also allows you to drive the machine from A to B without the blade running. With the unique Roto-stop® feature (now available on most models), when you let go of the handle, the engine continues but the blades stop – so you can leave the engine running while you empty the grass bag.
Honda HRH 536 QX Specification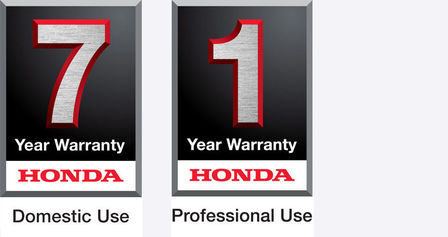 The Honda HRD 536 QX E comes with a 7 year domestic warranty (if serviced annually by a Honda dealership). Honda domestic lawn mowers are supported with one of the longest and most comprehensive warranties in the industry.
Please note this warranty covers manufacuring defects not wear and tear.
To view the 4 wheeled version of the machine then please see the Honda HRH 536 HX Lawn Mower
Why do we recommend Aspen fuel for lawn mowers?
Aspen fuel is chemically inert meaning that it will not break down, unlike normal petrol that starts to break down as soon as you put it in your tank. Your lawn mower will start easilywith Aspen even after the long winter break. Did you know that 1 hour of mowing your lawn with normal petrol emits roughly the same amount of toxic emissions as a modern car running for 300 hours! Aspen 4 reduces harmful hydrocarbons by 99 percent compared to pump unleaded. See Aspen fuels for more information.