Description
The Honda HRX 426 QX EH Lawn Mower has a rear roller (for stripes on your lawn) and is part of the "Honda Premium" lawn mower range. It has a 42cm (17 inch) width of cut and a powerful Honda 160 cc OHV engine. This model is self propelled.
The Honda HRX 426 QX EH Lawn Mower is a Honda lawn mower with a heavy duty "Polystrong" deck, a height of cut that ranges between 19 – 55mm with a single height adjustment lever and a large 60 L canvas grass bag. This model features "Roto Stop" which means that when you let go of the handle bars the blades will stop rotating but the engine will continue to run. See our full range of Honda lawn mowers.
To view the 4 wheeled version then please visit Honda HRX 426 SX EH Lawn Mower
Honda HRX 426 QX Lawn Mower Specification:
The Honda HRX 426 QX Lawn Mower is available from Masseys in Swadlincote Derbyshire.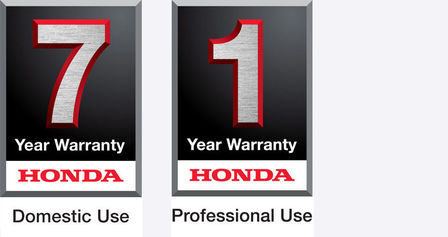 The Honda HRX 426 QX EH comes with a 7 year domestic warranty (if serviced annually by a Honda dealership). Honda domestic lawn mowers are supported with one of the longest and most comprehensive warranties in the industry.
Please note this warranty covers manufacuring defects not wear and tear.
Why do we recommend Aspen fuel?
Aspen fuel is chemically inert meaning that it will not break down, unlike normal petrol that starts to break down as soon as you put it in your tank. Your lawn mower will start easilywith Aspen even after the long winter break. Did you know that 1 hour of mowing your lawn with normal petrol emits roughly the same amount of toxic emissions as a modern car running for 300 hours! Aspen 4 reduces harmful hydrocarbons by 99 percent compared to pump unleaded. See Aspen fuels for more information.