Description
The Honda HRX 476 HY lawn mower is a 19 inch wide, durable petrol mower with variable speed and Roto-stop™. Available to view in our showroom in Swadlincote, Derbyshire.
The lawn mower is powered by the new Honda 167 cc engine. The deck is a heavy duty "Polystrong" deck, the height of cut that ranges between 25 – 79 mm with a single height adjustment lever and a large 69 L canvas grass bag. This model features "Roto Stop" which means that when you let go of the handle bars the blades will stop rotating but the engine will continue to run.
Variable hydrostatic drive – you can control the walking speed by a single lever.
Roto-stop® – When you release the handle, the engine continues but the blades stop – so you can leave the engine running to empty the grass bag or drive across gravel paths with complete safety and peace of mind.
Masseys are open 7 days a week. We will assemble your Honda lawn mower so it is ready to use.
To view the rear roller version then please visit Honda HRX 476 QY EH Lawn Mower
Honda HRX 476 HY Specification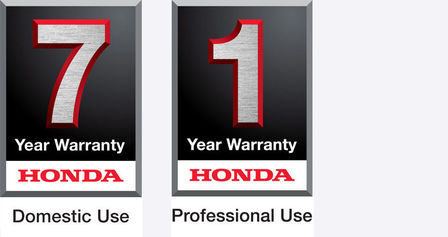 The Honda HRX 476 HY EH comes with a 7 year domestic warranty (if serviced annually by a Honda dealership). Honda domestic lawn mowers are supported with one of the longest and most comprehensive warranties in the industry.
Please note this warranty covers manufacuring defects not wear and tear.
Preventing Problems
At Masseys we would prefer to prevent problems rather than treat them. That is why we recommend a fuel stabiliser or Aspen fuel for all of our petrol lawn mowers – especially when petrol changes to the new E10 petrol.
Please use a fuel stabiliser or Aspen fuel with your lawn mower.
Fuel Stabiliser contains a carefully balanced formulation based on light hydrocarbon fractions and components specially selected for their performance enhancing properties:
Prevents the degradation of fuel – fuel stays fresh for up to 2 years.
Protects the fuel against oxidation.Prevents gum and varnish build up.
Protects the engine and fuel system parts against rust and corrosion.
WHY DO I NEED TO USE FUEL STABILISER?
Modern petrol now typically contains 5% ethanol. Ethanol readily bonds with atmospheric moisture creating an ethanol-water mix and this oxidisation creates what is known as stale fuel.
As fuel oxidises it can turn to gum and clog jets and other openings in the fuel system. Gummed up carburettors cause serious problems in power equipment such as lawn mowers that see intermittent use or have long periods of storage. This problem would not be covered under warranty.
Ethanol blended fuel is also a corrosive substance that can cause the gradual destruction of the metal used in the fuel systems of outdoor power equipment (particularly soft metals such as brass and aluminium). Ethanol also absorbs water, drawing it into the fuel mixture. Water is highly corrosive and when ethanol and water combine it can cause performance problems and fuel system damage.
Good quality fuel stored in an airtight container should stay stable, not oxidise and stay fresh. However the typical fuel tank of a lawn mower isn't ideal for storing fuel. It isn't 100% airtight, so fuel will oxidise in the tank, and over time (as little as 30 days) will go stale.
What is Aspen fuel and why do we recommend it?
There are many reasons why people choose to use Aspen in their garden machinery.
All of these benefits contribute to a better all-round experience whilst using your machinery, making your gardening easier and more enjoyable.
The advantages:
No expensive repair bills caused by stale fuel
Your machine always starts and is ready to go, even after long standstill periods
Lasts for years without deterioration
Aspen does not contain ethanol
Virtually odourless
Less maintenance and a longer machine life
Available in a conveniently sized container
Premixed 2-stroke eliminates the need to mix yourself
Easy to select the correct fuel using the coloured cans and coloured reminder stickers on your machine
Protects your health and the environment