Description
Thompson's One Coat Patio & Block Paving Seal 5L
One Coat Patio & Block Paving Seal protects and seals patios from the weather in just one coat. The powerful formula will also resist algae growth and protect against oil and fuel spills.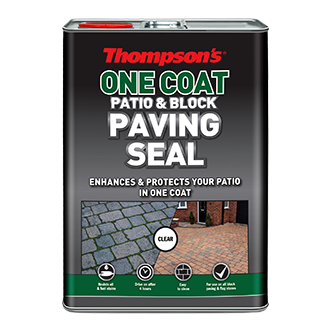 Resists oil and fuel stains
For use on all block paving and flag stones
Make sure block paving, jointing sand and paving slabs are dry before you start. Give the surface a decent scrub with a stiff bristle brush to remove any dust or dirt. If you have any mould or algae, use some Thompson's Advanced Patio & Block Paving Cleaner. If you've got oil stains, use Thompson's Oil & Drive Cleaner.
Make sure any cleaners are rinsed off the patio & it's dry before you start applying One Coat Patio & Block Paving Seal.
For best results, use on a dry day above 10C. On cold & damp days, drying and re-coat times will take longer. Give the tin a good shake. Pour the tin into a roller tray and use a long pile roller to apply in long smooth strokes. On textured block paving, make sure any puddles are spread into dry areas.
It's just one coat, so that's it, job done!
FYI – Really rough surfaces might need an extra coat.
Clean your equipment with white spirit.